This post is also available in: Chinese (Simplified)
Key takeaways:
Following the US Federal Reserve's (Fed's) series of aggressive interest-rate hikes, inflationary pressures have shown signs of easing. We believe this may pave the way for a "pivot to a pause" in monetary policy.
The impact of tightening financial conditions is uncertain as we go through 2023. We are mindful of risks given a potential economic slowdown, which can impact corporate earnings (fundamentals) and company valuations.
We will continue to favor fixed income, particularly investment-grade credit, if the asset class continues to offer what we consider attractive yields and total return potential.
We believe that a broad exposure to equities is important, particularly in companies that can prove that they are resilient and offer appreciation potential.
What's driving the Fed's policy and what does the path forward look like in your view?
Perks: The Fed's pace of interest-rate hikes has become quite rapid relative to prior cycles in the last four decades. Prior to the increase of 25 bps on February 1, the Fed raised interest rates 425 bps in 2022. The markets seem to think that the Fed is very close to not only being done raising interest rates, but also at the point where in the second half of this year, and certainly into 2024, that there may be fairly significant cuts to interest rates. That's one of the things that caused the markets to rally. However, we believe that it's a little premature to start discounting interest-rate cuts, largely because the economy is still performing well despite decelerating growth and inflation. Fed Chairman Jerome Powell's recurring message is that increases look to continue.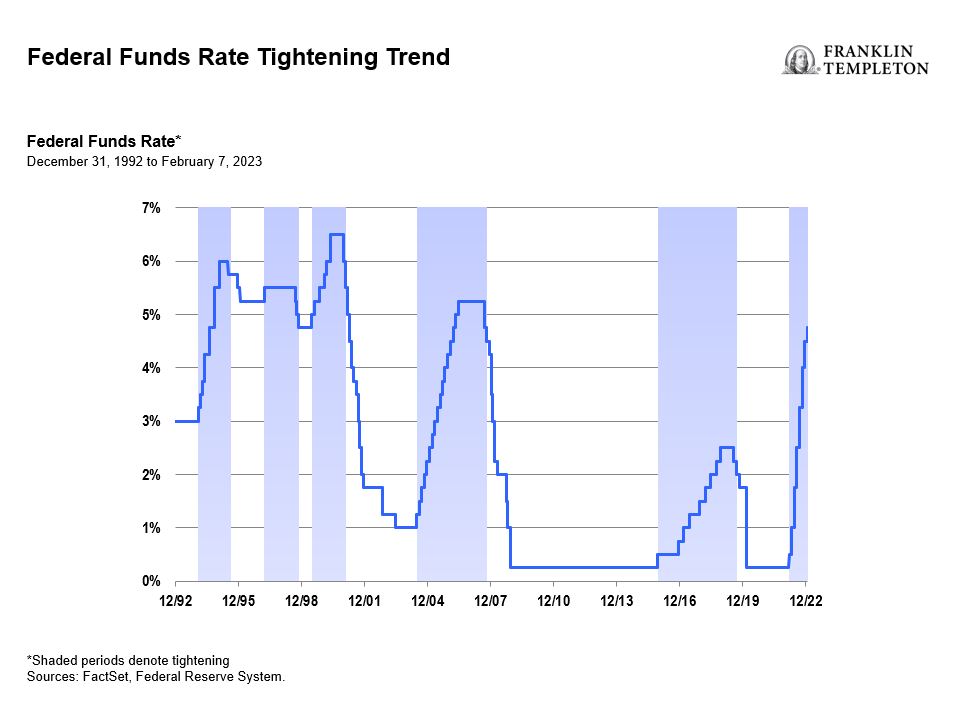 The Fed has done the hard work to rein in inflation. At this point, I think the path for monetary policy for the remainder of 2023 will be significantly more dependent upon economic data. It's possible that the monetary policy tightening that we've seen so far will take six to nine months to take effect. So, we just have to evaluate the data as it comes.
In our opinion, the Fed will achieve its goal of ensuring price stability, which it believes is the bedrock of the US economy. I think the longer economic data remains relatively resilient, a more significant contraction in activity can be avoided. If inflation continues to decelerate in the latter half of the year, I think we could then start to see a deceleration of hikes to ultimately a pause.
What are your thoughts on the continued strength of the US labor market?
Perks: The labor market has been the biggest conundrum. There have been layoff announcements in different pockets of the economy, such as technology and financials. But, the Fed is concerned that slack is not building in the labor market. A strong labor market risks wage inflation. The longer the labor market proves resilient, the longer it gives the Fed license to keep rates higher for longer. So, I think the labor market will be an important indicator as we go through 2023.
Fixed income became more important to investors in 2022. What areas of fixed income did you focus on and why?
Perks: Looking back on the influence of the pandemic on interest rates, the US two-year Treasury displayed a higher correlation to the federal funds rate as the Fed cut interest rates to zero. The 10-year US Treasury yield also bottomed out back in 2020. Then both started rising in 2021, with the two-year moving up well before the Fed started raising rates in March of 2022. That's one indicator that the market has pointed out as the Fed being behind the curve. Then, interest rates started moving up at an aggressive clip once the Fed kicked into its 75 bp increases. The inversion in yields of the two-year and 10-year Treasuries in mid-2022 played a substantial role in market expectations of a decline in economic activity, pressuring risk assets.
As yields have started to rise, the opportunity set to invest across the fixed income landscape—across the quality spectrum—has expanded. Looking at corporate debt, the average price of investment-grade corporate bonds has declined significantly. Back in the summer of 2020 when rates bottomed, the average price of an investment-grade bond was 117, which is 17 points above par value—a massive premium.1 Conversely, the low in October last year was 84. So, within that time period, we saw a staggering drop. In our opinion, the second half of last year was when we really started to see what we considered very attractive levels relative to anything we've seen in the last couple of decades. We will continue to look across the fixed income markets to find attractive opportunities trading at significant discounts to par.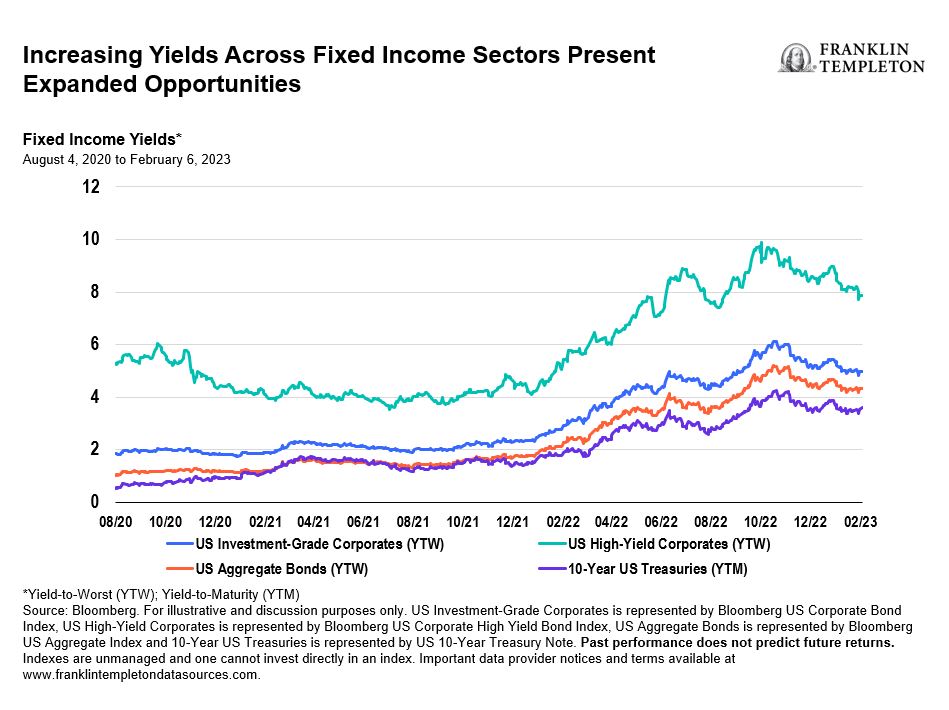 What are your current views on the high-yield space?
Perks: There has been a similar—but not as quite magnified—story in high-yield bonds, with the same dynamic of price declines and a meaningful shift up in yields. In our view, the time to be cautious about investing in high-yield bonds is when the premium, or overall level of income, is paltry compared to the credit risk. So, I think investors should have been more concerned about high-yield exposures in 2021, even though the outlook for the economy recovering from the pandemic was more robust. In contrast, yield levels in the last six-to-nine months have generally been high, while bond prices have been declining. Whenever we can buy things at discounts to par, we are going to be more attracted to that.
There are two things we like about high-yield debt. The first is that we can find shorter-duration securities that have much less interest-rate sensitivity, and second is the opportunity to isolate specific corporate fundamentals that we find attractive. This is an asset class where we emphasize fundamental analysis. We really want to understand where we want to be in the capital structure and how things could play out within a range of economic scenarios going forward. So, the first step is ensuring that we like the opportunity in the broad asset class and the investment characteristics fit our strategy. Then we drive down into each specific issuer and target specific companies that can continue to access capital or have a long lead time before maturities start to come due.
What are you seeing in equity earnings right now? What has you excited or concerned for 2023?
Perks: First of all, it is important to note that it is normal to see estimates decline over the course of the year as reality sets in. Looking at 2023 estimates, they peaked at $250 per share for S&P 500 earnings last summer.2 Now that we're converging on 2022 earnings, it looks like they'll come in at around $220 per share.3 Although it is still early in the fourth-quarter 2022 earnings reporting season, we are seeing a slowdown in revenues and margins. However, some companies continue to show resilience and strong stock performance.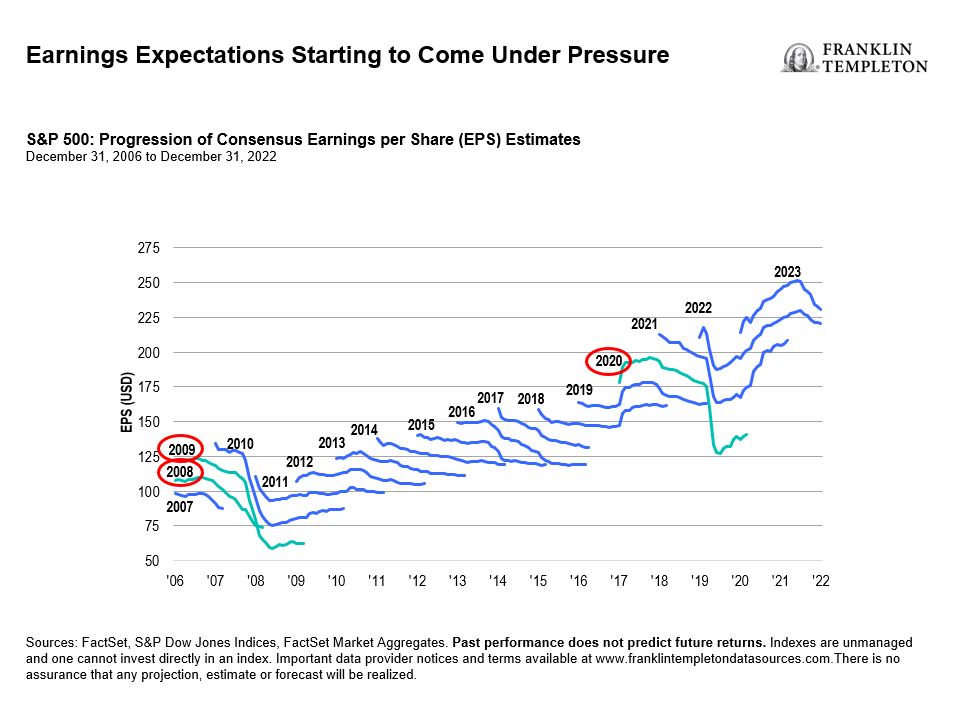 In our analysis, the setup for 2023 looks very different than what we experienced in 2022, where companies started the year with meaningful earnings growth that trailed off as the year played out. In 2022, macroeconomics and the movement of interest rates led to a significant drop in valuations. The price-earnings ratios clearly reflected this decline in 2022.
Conversely, we believe 2023 will be more about companies proving they can manage their way through an economic slowdown. There may or may not officially be a US recession, but for companies, efficiency of operations and maintaining margins will be important. We will continue to look for opportunities in companies that we believe can offer the best appreciation potential.
To conclude, we believe longer-term risks of inflation, possible monetary policy normalization, and potential for growth deceleration necessitate a vigilant approach to investing in fixed income and equities in 2023.
WHAT ARE THE RISKS?
All investments involve risks, including possible loss of principal. The value of investments can go down as well as up, and investors may not get back the full amount invested. Stock prices fluctuate, sometimes rapidly and dramatically, due to factors affecting individual companies, particular industries or sectors, or general market conditions. Bond prices generally move in the opposite direction of interest rates. Thus, as prices of bonds in an investment portfolio adjust to a rise in interest rates, the value of the portfolio may decline. Investments in lower-rated bonds include higher risk of default and loss of principal. Changes in the credit rating of a bond, or in the credit rating or financial strength of a bond's issuer, insurer or guarantor, may affect the bond's value. In general, an investor is paid a higher yield to assume a greater degree of credit risk. The risks associated with higher-yielding, lower-rated debt securities include higher risk of default and loss of principal. Treasuries, if held to maturity, offer a fixed rate of return and fixed principal value; their interest payments and principal are guaranteed.
IMPORTANT LEGAL INFORMATION
This material is intended to be of general interest only and should not be construed as individual investment advice or a recommendation or solicitation to buy, sell or hold any security or to adopt any investment strategy. It does not constitute legal or tax advice. This material may not be reproduced, distributed or published without prior written permission from Franklin Templeton. 
The views expressed are those of the investment manager and the comments, opinions and analyses are rendered as at publication date and may change without notice. The underlying assumptions and these views are subject to change based on market and other conditions and may differ from other portfolio managers or of the firm as a whole. The information provided in this material is not intended as a complete analysis of every material fact regarding any country, region or market. There is no assurance that any prediction, projection or forecast on the economy, stock market, bond market or the economic trends of the markets will be realized. The value of investments and the income from them can go down as well as up and you may not get back the full amount that you invested. Past performance is not necessarily indicative nor a guarantee of future performance. All investments involve risks, including possible loss of principal. 
Any research and analysis contained in this material has been procured by Franklin Templeton for its own purposes and may be acted upon in that connection and, as such, is provided to you incidentally. Data from third party sources may have been used in the preparation of this material and Franklin Templeton ("FT") has not independently verified, validated or audited such data.  Although information has been obtained from sources that Franklin Templeton believes to be reliable, no guarantee can be given as to its accuracy and such information may be incomplete or condensed and may be subject to change at any time without notice. The mention of any individual securities should neither constitute nor be construed as a recommendation to purchase, hold or sell any securities, and the information provided regarding such individual securities (if any) is not a sufficient basis upon which to make an investment decision. FT accepts no liability whatsoever for any loss arising from use of this information and reliance upon the comments, opinions and analyses in the material is at the sole discretion of the user. 
Products, services and information may not be available in all jurisdictions and are offered outside the U.S. by other FT affiliates and/or their distributors as local laws and regulation permits. Please consult your own financial professional or Franklin Templeton institutional contact for further information on availability of products and services in your jurisdiction.
CFA® and Chartered Financial Analyst® are trademarks owned by CFA Institute.
__________
1. Sources: FactSet, Bloomberg Indexes. Indexes are unmanaged and one cannot directly invest in them. They do not include fees, expenses or sales charges. Past performance is not an indicator of future results. See www.franklintempletondatasources.com for additional data provider information.
2. Source: Bloomberg as of December 31, 2022. There is no assurance that any estimate, forecast or projection will be realized.
3. Ibid.